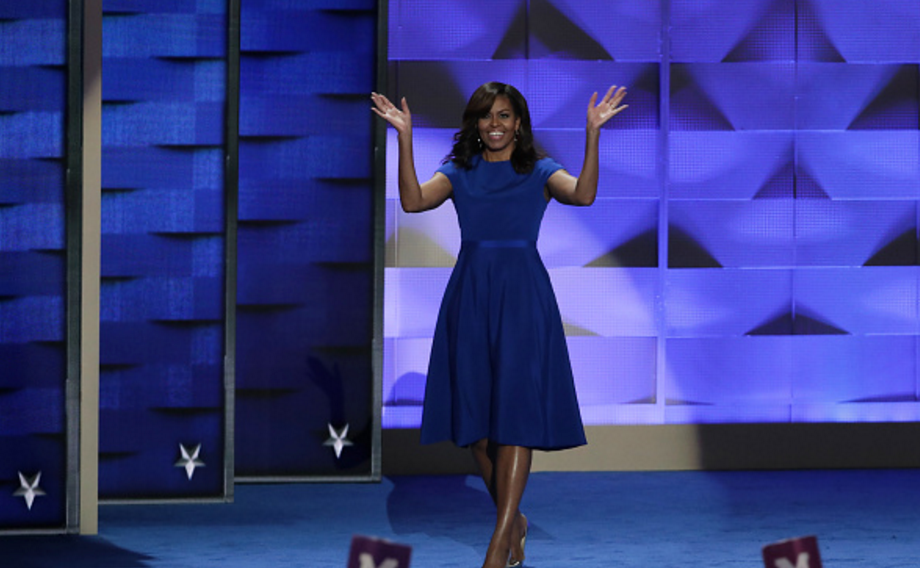 by Kimberly Foster @KimberlyNFoster
Michelle Obama easily stole the show on the first night of the Democratic National Convention in Philadelphia. She
delivered a moving speech
to endorse the presumptive nominee, Hillary Clinton, in a royal blue Christian Siriano dress.
Of course, Mrs. Obama chose an American designer to make clear her belief that this country is still great.
Siriano is the much-talked-about veteran of Project Runway who made a name for himself with his structured gowns and
inclusive approach to couture
. Recently, he
stepped in
to dress comedian Leslie Jones when others wouldn't.
With these things in mind, Mrs. Obama couldn't have made a stronger statement visually. Though the knee-length dress and silver accessories matched perfectly the color scheme of the stage and backdrop, Mrs. Obama could be easily seen.
Pairing a warm, vibrant hue with a soft silhouette underscores the First Ladies efforts to be seen as maternal but also resolute. With her words and style she made a clear case beauty of American democracy.
---
---