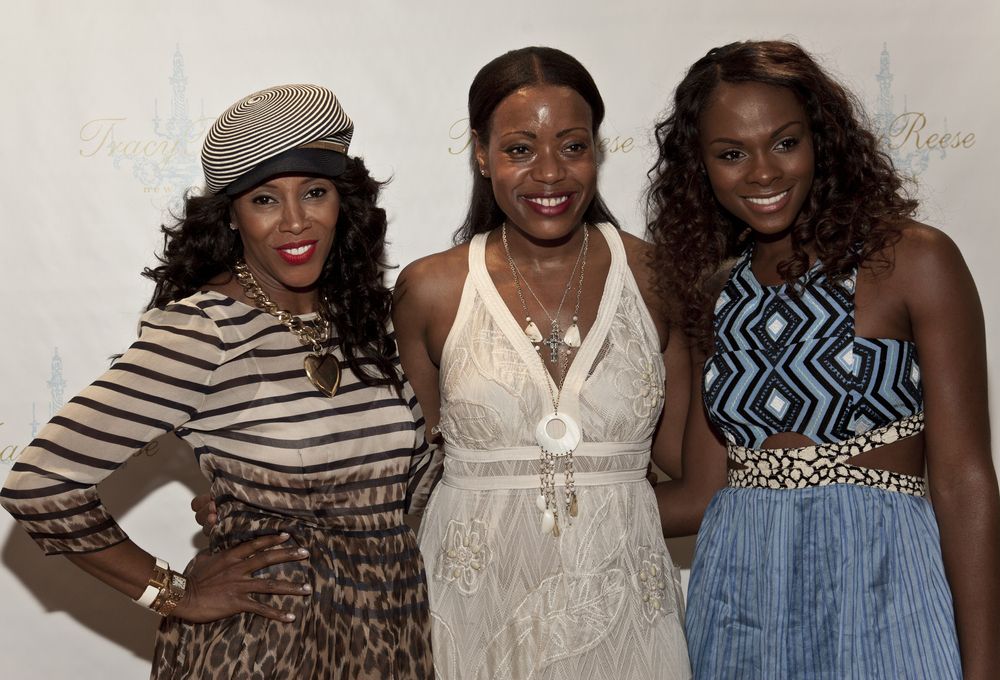 The fashion industry has always been full of rich and creative contributions from talented black female designers. With unique, imaginative designs inspired by their cultural backgrounds, black women are making their marks in the fashion industry one step at a time. Here are 15 designers throughout history that you need to know.
1. Elizabeth Keckley
Elizabeth Keckley was a former slave born in Dinwiddie, Virginia in February 1818 who became a successful seamstress, civil activist, and author. Keckley served as a dressmaker and confidante to Mary Todd Lincoln until she published a tell-all book about the Lincolns in 1868. Keckley died impoverished in May 1907 in Washington, D.C.
2. Ann Lowe
Born in Alabama, Ann Lowe moved to New York at the age of 16 where she attended design school and later opened a shop on Madison Ave. Making over 1,000 dresses each year and selling her designs in Henri Bendel, Neiman Marcus, and I. Magnin, Lowe had a clientele that included members of the Vanderbilts, the Roosevelts, and the Rockefellers. Lowe created the bridal gown for the wedding of Jacqueline Beauvais (Jackie O.) and John F. Kennedy, though she did not receive credit for the creation of the gown.
3. Zelda Wynn Valdes
Fashion designer and costumer, Zelda Wynn Valdes is a "fashionable game-changer,"
according to Ebony.com
for her creation of the original Playboy bunny outfit and stage costumes for the Dance Theater of Harlem. Her sexy and hip-hugging designs were often worn by Dorothy Dandridge, Josephine Baker, Ella Fitzgerald, Gladys Knight, and many others. In 1948, Valdes opened a boutique in Manhattan (today known as the Washington Heights neighborhood) named Chez Zelda, which she later moved to 57th Street. Valdes helped found the National Association of Fashion and Accessory Designers, an organization for black designers.
4. Azede Jean-Pierre
Born in Pastel, Haiti and raised in Atlanta, GA, Azede Jean-Pierre first debuted her Fall/Winter collection in 2012. The young designer attended Savannah College of Art and Design, where she decided to create her eponymous label in her third year. Through interning at Ralph Rucci and Ohni Titel, Jean-Pierre was able to hone her skills before branching out on her own. Her young womenswear label is in its third year and is committed to celebrating the sensual femininity of its customer. Jean-Pierre pushes the boundaries of technique and innovation. Her explorations of technique have landed her much publicity. Jean-Pierre's designs are not only well received by press, but have been immediately photographed for some of the industry's leading publications, including Women Wear Daily. Glamour Magazine has referred to the label as "changing the future of fashion," while Style.com deems it as the "next big thing." The brand has also been a red carpet favorite for First Lady Michelle Obama, pop singer Lady Gaga, and singer-songwriter Solange Knowles.
5. Carly Cushnie
Carly Cushnie is co-founder and designer of label Cushnie Et Ochs. Carly Cushnie is originally from London and studied at Parsons School of Design, in Paris and New York, where she received her B.A. in Fashion Design. Through interning for fashion pioneers like Donna Karan, Proenza Schouler, and Oscar de la Renta, Cushnie developed a strong sense of movement and shape. While attending Parsons, she linked up with label partner Michelle Ochs to create the label Cushnie Et Ochs allowing their senior project to be featured on the cover of Women Wear Daily. The team was also picked up by Bergdorf Goodman during the recession, around the same time their brand launched. Cushnie Et Ochs embodies energy through lines and color, creating clothes for the modern woman who embraces her individuality.
6. Kara Saun
Costume designer for America's Best Dance Crew and 2nd Place winner of Project Runway season 1, Kara Saun also has her own collection, 2056, which she unveiled at L.A.'s Mercedes Benz Fashion Week in 2006. The line combines a Modern 40's theme with an Asian futuristic look and is sold at boutiques across the country. The designer has also designed costumes for The Sing-Off, The Cheetah Girls, What I Like About You, Eve, and many other television programs.
7. Kidada Jones
Daughter of Quincy Jones, Kidada Jones is best known for her work with The Disney Company where she has her line Kidada for Disney Couture. The designer is from Los Angeles, CA where she attended the Fashion Institute of Design and Merchandising (FIDM). Kidada started off as a celebrity stylist for Vibe Magazine where she gained attention for styling Michael Jackson for the magazine's January 1995 cover. She was then recruited by Tommy Hilfiger, designed a clothing line for Snoop Dogg and appeared as a model in fashion magazines such as Vogue, Elle, and Harper's Bazaar. In 2005, she started her career with Disney.
8. Kimberly Goldson
A finalist in Season 9 of "Project Runway," Kimberly Goldson was born in Brooklyn, NY and credits Brooklyn for having everything to do with her personal style. The self-taught designer's collection for Spring 2012 made an appearance during Mercedes Benz Fashion Week. Despite her success, Goldson had only been designing for four years when she first auditioned for Project Runway, being turned away by Tim Gunn for her lack of experience. That rejection turned into motivation for Goldson, causing her to audition again and becoming a finalist inthe ninth season. With her mother as her main source of inspiration, Goldson uses '70s imfluenced bold designs to help her stand apart from competitors. The designer feels that African American's are underrepresented and "not given full recognition for our sense of style," she told
Essence in a Q&A
. Goldson has made it one of her top priorities to change that.
9. Kimora Lee Simmons
Former fashion model Kimora Lee Simmons turned Baby Phat into a lifestyle brand and is currently President/Creative Director for JustFab, a personalized shopping website. At 14 years old, Kimora was signed a modeling contract with Chanel under Karl Lagerfeld and quickly gained attention when she closed Lagerfeld's haute couture show. Aside from Baby Phat, Kimora launched two other lines: KLS Collection and Kouture by Kimora.
10. Laura Smalls
Having no idea that First Lady Michelle Obama would be wearing not one, but two of her designs in 2012, Laura Smalls was catapulted into the public eye. The designer gained a spot at NYFW to present her Spring 2013 collection as suggested by André Leon Talley. She has since gained a lot of publicity and phone calls, but is not too interested in self-promotion. Smalls really enjoys dressing the First Lady because it's "historic," she told
Fashionista.com in an interview.
The designer is credited with using painters techniques and complementing colors in her timeless and elegant pieces.
11. Martine Rose
Once using the name LMNOP to design T-shirts with a friend, Martine Rose has made a name for herself as a menswear designer. Rose has collaborated with brands such as Timberland, CAT, and Icon, gaining tons of male followers. She is a constant on London's lists for British menswear designers to watch. The street-style designer shows impressive skills and is set to have a promising career.
12. Monif Clarke
Founder and CEO of Monif C. Plus Sizes, Monif Clarke initially launched her plus size line in 2006. Rejected by major retailers because her clothing was "too trendy, colorful, and sexy," for their plus-size audiences, Clarke knew there was huge need for these bold, feminine designs in the market and decided to sell the line herself. Since launching her e-commerce site, a boutique in Manhattan, and a wholesale business with retailers across the U.S., London, Bahamas, Sweden, and other countries, Monif C. has partnered with Ideeli, been approached by SAKS, and has been featured in Glamour and InStyle. Rejection turned out to be a blessing for Clarke and even gained her an invitation to the White House.
13. Samantha Black
Founder of Sammy B. Designs, Samantha Black graduate from Pratt Institute in N.Y. where she received a BFA in fashion design. Samantha interned for Michael Kors and Jill Stuart while in school then moved to London where she worked for Alexander McQueen for several months. Upon her return to the U.S., she worked for Aeropostale-owned company Jimmyz, where she was the head designer of the women's denim line. Taking bits and pieces of inspiration from every internship and job, Samantha combines that with her individual style, complementing the chic and the fashion forward.
14. Tori Nichel
Deemed the "One to Watch" by Forbes Online, Tori Nichel's profile has steadily risen since graduating from FIT. The designer re-launched her namesake label in the summer of last year, and her designs have been spotted on big names, including supermodel Liya Kebede. The Fashion Star contestant began her career at Dana Buchman, where her ambitions later took her to work with Kenneth Cole. In search for a mix of hands-on design label experience and entrepreneurship, Nichel took the position of Head Designer at Tibi, and from there created her label of tailored suits and chic dresses.
15. Tracy Reese
Feminine and retro-influenced, Tracy Reese's designs use bright colors, graphic patterns, and a touch of bohemian chic. The brand includes everything from home decor to shoes, nail polish to hosiery, and has captured a great amount of commercial success. Carried by major retailers Bloomingdale's, Bergdorf Goodman, Neiman Marcus, Anthropologie, Modcloth, and Nordstrom, the brand has received national attention thanks to First Lady Michelle Obama.
We celebrate these sartorial pioneers for their creative genius and being leaders within the fashion industry!
Header photo: lev radin / Shutterstock.com

Shonette Reed is a Biola journalism graduate and freelance writer/journalist from Los Angeles, Calif. With plans to break into the fashion industry as a fashion reporter, she runs her own style blog. Her aim is to highlight the important contributions of women of color in the fashion industry as well as give women of color more exposure within the leading magazines in fashion. You can follow her on twitter @ShonetteReed.