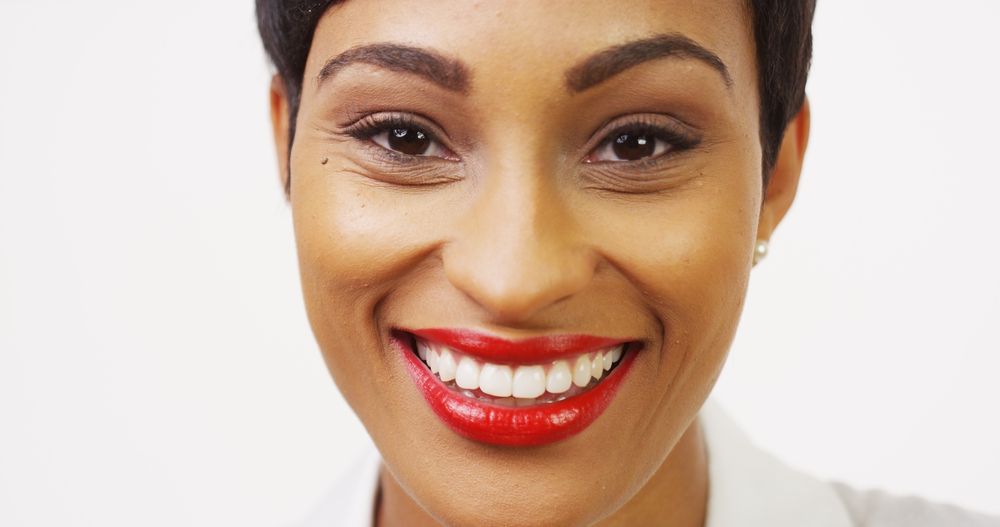 by Neisha Washington
Whether you're single, dating, or in a long-term relationship, Valentine's Day offers just another reason to look your absolute best. We know this day can have some feeling over the moon, while it's pose a touchy subject for others. Whatever the case, it's a day of love, so why not treat yourself? Here are a few beauty looks perfect for a spa day with friends or date night out.
Destiny Godley Gives Us Valentine's Day Goddess
Beauty Blogger
Destiny Godley
displays her knack for breaking hearts with a brush stroke as she serves up otherworldly cosmetic gifts. Destiny blends a dark smokey eye with sunkissed skin for an incredible ethereal effect. The pure finesse of her makeup game may provoke you to pause for reflection, or bow down. No really, she's that good. For those of you harboring the secret desire of knocking the breath out of your significant other, this is the look for you!
Featured Products: NYX Jumbo Pencil Milk, NYX Soft Spoken, Milani Fierce Foil in Brown Foil, NYX Bedroom Eyes
The Perfect Date Night Look
Cosmetic master
Rose Kimberly
puts a cutesy spin on Valentine's Day beauty. Perfect for a daytime date or a twilight tryst, the makeup maven blends rose tones with blush colors for a sweet and simple look. If you lean towards bright pink shades, Kimberly suggests the
NYX Butter Fizzies Rose Pink Lipstick
for setting the mood. For those inclined towards nudes,
MAC Verve
with it's subtle brown pigments presents an equally stunning option.
Featured Products: Maybelline Fit Me Matte + Poreless Foundation, Jordana 2 in 1 Concealer + Foundation, Makeup Geek Cocoa Bear, Makeup Geek Birthday Wish Pigment, Black Radiance Pressed Powder in Ebony, NYX Eyeliner Pen, NYC Liquid Eyeliner, Elite Lashes in 6, MAC Studio Fix Powder, ELF Blush Palette, Maybelline Lash Sensational Mascara, Becca Highlight in Topaz, Jordana Tawny Lip Liner, NYX Butter Lipstick in Rose Pink, MAC Verve Lipstick
Vampy Valentine
If you appreciate a sexy, sultry vibe
Irishcel507
and
Ciarahoneydip
have tips for those embracing their seductive side. These two YouTubers blend edgy romantic shades with unforgettable lips. Ciara pairs impeccable contouring with a multi-hued glossy red pout. While Irishcel507 models a winged dusky pink eyelid with phenomenal magenta lipwear by
Tarte
. Also, look no further than the
Anastasia Beverly Hills Contour Kit
and Revlon Fire LipGloss as Valentine's Day splurges.
Featured Products: Makeup Forever HD Primer, Urban Decay 24/7 liner, MAC Spiked, Benefit They're Real, Jordana "Cabernet", MAC Prolongwear in NC 42, Anastasia Contour Palette, Revlon "Fire", Natural Radiance by MAC, Peach Luster by MAC, Face & Body by MAC (COLOR N7), Primer Potion by Urban DACY, Matteficinet by Tarte Pallette, Dip Brow by Anastasia in dark brown, NC45 by MAC Studio Finish, Double Wear Brush on Glow B.B by Estee Lauder, Sheer Loose NC45 by MAC, Sun Powder by MAC, Highlight & Contour Palette, Amuzed by Tarte, Rose by MAC, Flutter in Anabelle, Inner Rim by Tarte, Lively & True Red by Tarte Lipsurgence
Classic Sweet Heart
Looking for a more classic take on this day of love?
Prettypcollins
expertly mixes scarlet and blush notes for a look dripping with pure understated sophistication. The tutorialist skillfully adds just a dab of brick red to a near nude eyelid for a striking effect. The
Makeup Geek Beaches and Cream Eyeshadow
, with it's versatile matte finish, is a promising addition to any cosmetic bag. We absolutely adore this look!
Featured Products: Anastasia Beverly Hills Dipbrow in Dark Brown, Nars Sheer Glow Foundation in Stromboli, MAC Eyeshadow in Soft Brown, MAC Red Brick, Makeup Geek Eyeshadow in Beaches and Cream, MAC Pigment in Naked, MAC Skin Finish in Superb, Anastasia beverly hills contour powder in Camel, Too Faced Cosmetics Glitter Glue Primer, Urban Decay eyeshadow primer, bhcosmetics Glitter in Deep Red, NYC Liquid Eyeliner, Amor Us Eyelashes #43, MAC Lipliner in Auburn, MAC Lipstick in Ruby Woo
This Valentine's Day, invest in yourself and glam it up. You don't have to be in a relationship to celebrate the day of love. You simply need to be in love with yourself.
Neisha Washington is a DePauw University graduate, current graduate student and regular contributor to For Harriet.