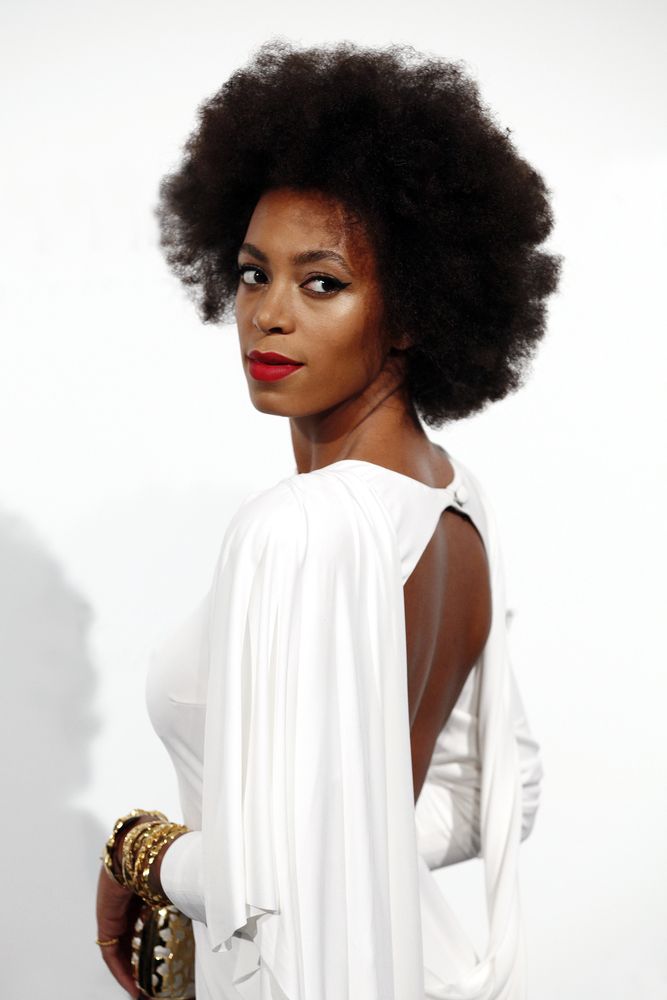 Photo:
Andrea Raffin
/
Shutterstock.com
Solange is a sartorial force to be reckoned with. We've seen the singer-songwriter embrace a number of styles, ranging from sleek ball gowns to eclectic chic.
"I always knew being 100 percent wholeheartedly me was going to pay off," the songstress revealed to
Essence
magazine
. Solange's individuality is ever present whether she's staying true to her artistic niche, performing with sister Beyonce, or gracefully tipping her hat to the powerful women in her life.
Through adolescence, motherhood, and matrimony, Solange knows how to stand in her own fashion spotlight, remixing the latest trends with a serving of soul and breathtaking ingenuity.
Here's a glimpse at some of our favorite looks from Solange.
The singer, often touted as the definition of a
Carefree Black Girl
, has made it clear over the past few years that she follows her own rules when it comes to fashion. "We all have the option of how we want to express ourselves through our life, hair, style or whatever we decide. We shouldn't be pigeonholed into any one category," says Solange in Essence magazine's
Black hair
issue
. No matter what she's wearing, Solange's best attribute may just be her unbound spirit and flair for life.
2. Bold Colors and Classic Shapes
Solange is known for pairing classic shapes with vibrant colors in new and creative ways. Paying attention to the shape and structure of clothing items is key for this artist's style pallette. Solange also adds bright pops of color and bold prints into all of her looks—from everyday street style to elegant ball gowns. This was also the creative influence for her second
PUMA
shoe collection.
3. Hair, hair, and more hair!
Be it twists, braids, straight, natural, long, or short—Solange is always taking risks. The singer's 2009 cropped natural look even launched her into the role of unintentional natural hair icon. "Cutting my hair doesn't even feel brave, but it's funny to see the social response for their interpretation of what a haircut, or what a hair change means," said the singer
in a discussion
with Carol's Daughter Founder
Lisa Price
. Solange states that she simply sees her hair as an "outlet of expression," the same as her fashion sense.
4. Headwraps and Turbans and Scarves, Oh My!
A Solange style breakdown would be incomplete without mentioning the star's knack for pulling off the headwrap and turban trend. These decorative hair accessories are a regular component of her wardrobe, as she shows off how the right head piece can be the perfect accent to an outfit.
No one rocks mixed prints quite like Solange. Celebrated by fashion media outlets as an authority on funky patterns, the songstress always wows with her spin on the most unlikely couplings of fabric. Stripes with leopard print? Polka dots with stripes? Bold African-inspired prints? Solange makes them all work!
Be it brilliant gowns, billowing jumpsuits, or daring fashion experiments, Solange is sure to make a statement on the red carpet. Those who follow the star's unique style are always buzzing about the youngest Knowles' latest evening looks, which often garners a range of high praise or scratched heads.
7. Slaying in Regal Wedded Glory
Everyone was enraptured when photos of Solange's all-white New Orleans wedding were released. Solange wore a number of ensembles, including the now infamous stunning caped sheath dress that she posed in with her mother, sister, and close friends for her official wedding photos—inspired by the work of Italian artist Vanessa Beecroft. "Everyone I worked with on the wedding were friends I love,"
she wrote to
Vogue
. "Everything was a labor of love."
All in all, Solange's fashion reminds us of the joy and magic of black womanhood. Her zest for life and unrelenting belief in her vision runs deep and resonates with the free spirit in all of us.
For more watch Solange chat with Style Blazer about her personal style.
Neisha Washington is a graduate of DePauw University, graduate student, and regular contributor to For Harriet.