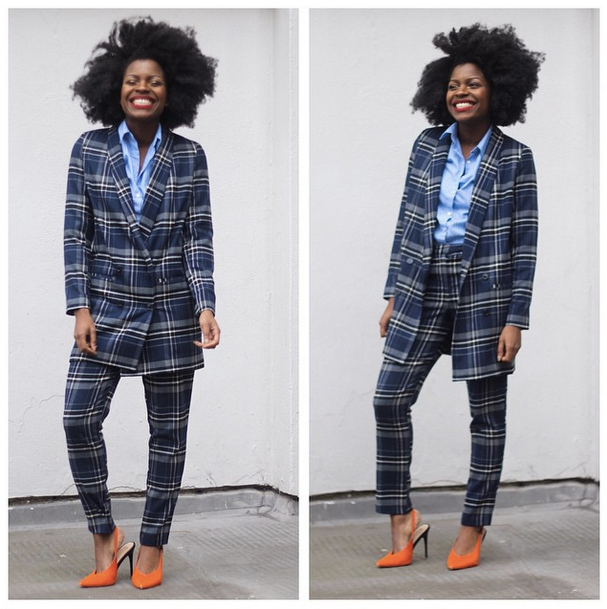 With the array of fashion blogs taking over the Internet and their creators being seen in the front rows of Fashion Week, we've decided to take a look at a few eye-catching bloggers ourselves. Their looks are as diverse as they are—embracing everything from edgy street style looks, feminine ensembles with bold colors and sky-high heels—while pairing both high-end and affordable pieces together. These style 15 bloggers are worth keeping an eye on through 2015.
1. Frédérique Tietcheu, iGoByFrankie.com
The Paris-born, London-based stylist gives great vibes with bright colors and even brighter style. A true European's touch of style, Tietcheu's mastery of color-blending and bold choices prove why she's a stylist in one of the fashion capitals of the world.
2. Style Carmen, CarmenLilly.com
The stylish wife and mommy sure knows how to knock it out of the park when it comes to her mastery of wearing culottes as well as her enviable fro. The NYC wardrobe stylist and personal shopping consultant began her career as an intern with designer Donna Karan.
3. Cipriana Quann, UrbanBushBabes.com
Editor-in-Chief and Co-Founder of Urban Bush Babes, Quann has made quite the name for herself as a Vogue contributor and W Magazine's "Style Star." With bold brows, natural hair and striking lipstick, the blogger challenges fashion by coloring outside of the lines.
4. Courtney Quinn, ColorMeCourtney.com
New-Yorker Courtney Quinn comes equipped with fur, sparkles, and Waffles the bulldog. Believing in "always being overdressed", the style blogger offers constant inspiration for dressing up for work and play.
5. Comme CoCo, CommeCoCo.com
Haitian-born personal style blogger and curvy girl Comme CoCo brings a fresh perspective to print mixing and incorporating hot pieces into her personal style. Tiptoeing the sartorial line between Baltimore and DC, the blogger knows how to make even the simplest of looks stand out.
6. Kela Walker, kelaskloset.com
Wearing many hats, Kela Walker of Kela's Kloset gives tips on how to be innovative with what you've got—and flaunting it by dressing it up in new clothes from time to time. The blogger gives a bit of edge with every outfit.
7. Diamond Mahone, DiamondJanae.com
From her mastery of wearing one color to rocking onesie's, stylist and blogger Diamond Mahone's street style and femininity has led her to work with Gap and other companies.
8. Chioma, CSEvolutionOfStyle.com
Chioma's evolution of style blog covers fashion for the everyday woman. Having a style that is both vintage and chic, the blogger who just married last year encourages personal style and confidence in women everyday.
9. Ibtihaj Muhammad, LouellaShop.com
She is the CEO of her own fashion company, Louella, which focuses on providing stylish, modest clothing in the form of chic long-sleeve maxi dresses. Ibtihaj Muhammad is also the first Muslim woman to represent the U.S. in an international competition, as an Olympic fencer.
10. Grown and Curvy, GrownAndCurvyWoman.com
Showing that plus-size divas also have style, Grown and Curvy is a 40+ year old trendsetter and Lucky Magazine contributor. As her website says, she's proving that style "has no age or size" limitations.
11. Raven Elyse, RavenElyseTV
Raven Elyse is a fashion and beauty YouTuber (RavenElyseTV), freelance model, and fashion design major from Texas. She offers a minimalist and street style approach to fashion that's especially great for the young fashionistas.
12. Shirley B. Eniang, ShirleysWardrobe.com
YouTuber and creative mind, Shirley B. Eniang is a European blogger who makes even the simplest of outfits look stunning.
13. Dhvani Tombush, RamblingsandSnaps.com
Aspiring fashion professional, Ramblings and Snaps blogger Dhvani Tombush embraces a feminine style and beauty and her identity as a bi-racial woman of both Black and Indian descent.
14. Peggy Jean, OnTheQTrain.com
NYC Style and Natural Hair Blogger Peggy Jean, known as On The Q Train, embodies "art through fashion" and uses her blog to reflect her "versatile" style.
15. Brandhyze Stanley, Frugal-nomics.com
With her blogged subtitled as "The Art of Resourceful Living," Brandhyze of Frugal-nomics.com displays femininity through her style while still living resourcefully.