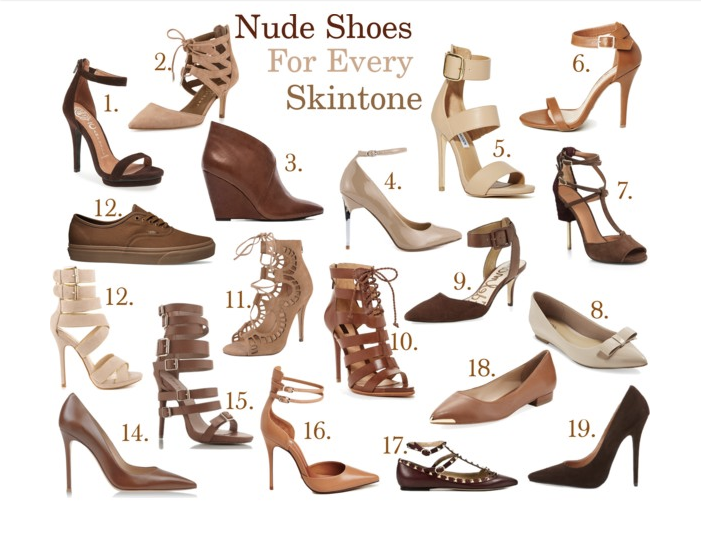 by Jana-Lynn
Every girl needs a good nude shoe. One might even argue a good nude shoe should be higher on the totem pole than the classic black heel we've all been taught is a fashion requirement.
There are plenty of benefits for owning a pair of nude shoes. Nude shoes elongate your legs by extending the eye-line of your leg. When worn in a heel, they lift your calves, making you look longer, leaner, and skinnier. For petite women, a nude heel also adds a few more inches to your frame. And my favorite thing about nude shoes: They go with everything!
The neutral color compliments every outfit—from an all-black ensemble, to a sequined fuchsia frock, to a green sheer blouse and floral jeans. It easily transitions from work to play, and can take you anywhere from a black-tie event to date night to brunch. It has gotten to the point that I just leave my pair in my car because I know they'll go with whatever outfit I have on in the event that I need to wear heels. Nude shoes are the ultimate necessity!
But we brown-skinned gals often have a dilemma when it comes to nude heels. While the word "nude" hints that the shoe will match your skin tone, for most black women the light beige/blush tone shoes that many consider to be "nude" don't. And while the subdued color can complement an overall look, it still does not allow us to reap the full benefits of a nude shoe. It literally took me years of extensive research to find the perfect brown shoe for my brown skin. And while it still isn't the perfect dark brown shade for my chocolate complexion, the cognac color is a far better option than the beige and pink-tan options that are the customary colors in the market.
In order to help you get the perfect nude heel for your closet, I've compiled a list of flat, mid-heel, and high heel shoes that aim to cater to the skin tones of women with light, medium, and dark brown skin. Hopefully, we can all get one step closer to the true nude shoe experience we all have longed for.
Jana-Lynn is a lifestyle blogger, personal stylist, and cultural enthusiast. Follow her adventures on Twitter (@BasedJane) and her website (thejanetales.blogspot.com) for conversations on fashion, style, pop culture, love, and life.