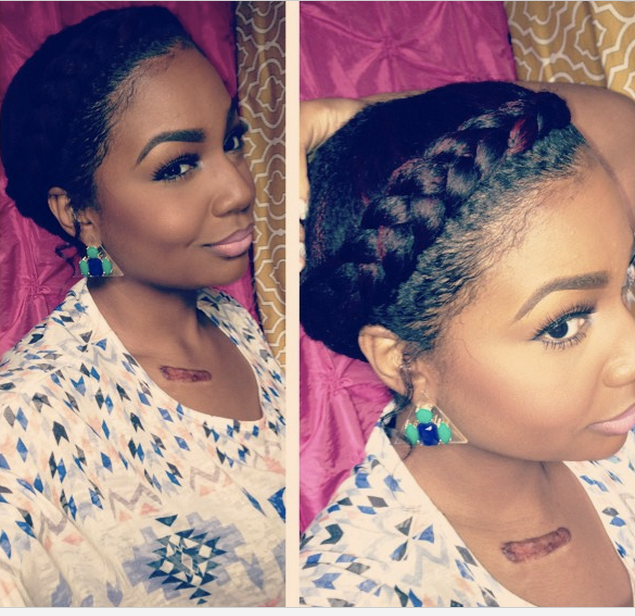 by Janna-Lynn
'Tis the season for New Year's Eve parties. Whether you're headed to a big party, family gathering, house party and intimate dinners with significant others, the Glam Gods will have a lot of hustling and bustling to do within a very short time frame. And since most of us tend to focus more on pulling together the perfect combination of clothes, shoes, and accessories, hairstyles may end up being an afterthought. Whatever goes with the gray stiletto nails, shimmery sequined frock, smoky eye, and killer heels, you know.
Not this year!
Gals, in hopes of giving you one less thing to worry about while still boosting your holiday season fabulousness success rate, I've compiled a list of hairstyles and hair accessories that you can use for the many festive gatherings on your social calendar. These looks are for all types, textures, and styles of hair. Dive into the delightful looks below.


Headbands and tiaras are simple and easy ways to for the ladies with short hair—whether you're a bald beauty or rocking a caesar, TWA, or pixie cu—to get festive this season. You can find fun headbands, filigrees, tiaras, and fascinators from Claire's and Forever21. This metallic faux rose headband and etched leaf headband are among my favorites. Check out this YouTube tutorial by Shameless Maya for styling ideas.







Want to add variety and spice up your normal everyday hairstyle? Perm rods on your TWA or tapered cut is also a fun holiday look. Check out this wonderful and easy tutorial.







For more hair accessories, headwraps and crowns can also jazz up your look and accentuate a simple hairstyle. Try AfrosAndBows, ASOS, and Urban Outfitters for many spectacular hair accessories.







Goddess braids are all the rage right now, and can be worn a variety of waves. We love this elegant updo. Ms. Danti created this awesome tutorial for a pulled-back look with goddess braids. Pair this style with nude lips, long lashes, and decadent earrings this holiday season.







Try your hand at fluffy spiral curls. This look works better with medium or longer hair. Check out the tutorial here.








Pin curls are another versatile and lovely look, like this pin-curled bob. Learn how to install pin curls and style pin curls with these tutorials.







Using clip-ins to add volume and/or length can add a dramatic, glamorous affect. Check out Kurly Klips (Shoulder Chic Fro pictured above) to add fullness to your natural hair or to create a full fro (with no leave-out).







Designer Shateria Moragne-EL's deep part and romantic curls are a wonderful way to highlight your hair color or just enjoy an edgy yet still elegant look this holiday season. Pair with a sparkly gold dress or high-slit black gown and all eyes will be on you. Check out this YouTube tutorial to learn how to achieve this look.







Wear your romantic curls in this beautiful half-pinned back look by vlogger Jennie Jenkins. Check out her tutorial here.







Long waves are a classic holiday look. Pair with bold brows and a vampy lip to make a statement. Check out the tutorial for this look by Ambrosia Malbrough here.







Do you love Rihanna's slick ponytail from the 2014 amFAR Gala? Check out this tutorial.







Follow the style of Teyonah Parris is this voluptuous mane and try a wig from HeatFreeHair. Just blow out the hair and add a side braid for some festive cheer. Ladies with longer hair, this look can be easily achieved with your natural hair as well.




If you're wearing box braids or twists, check out this style inspiration post that features several ways to style your hair. There is also this wonderful tutorial on how to glam them by curling with flexi rods. Want to put in some twists yourself for the occasion? Check out this step-by-step tutorial.

Jana-Lynn is a lifestyle blogger, personal stylist, and cultural critic. Follow her adventures on Twitter (@BasedJane) and her blog (thejanetales.blogspot.com) for conversations on fashion, style, pop culture, love, and life.