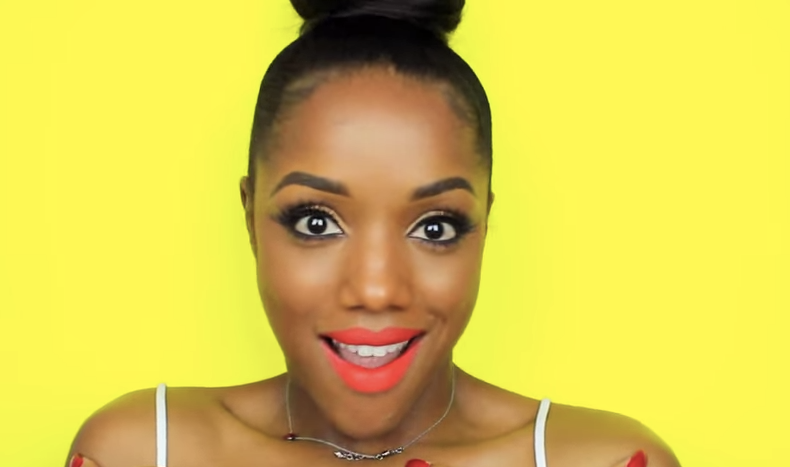 by Ariel C. Williams
European standards of beauty have been force-fed to Black women since the Middle Passage. Having kinky hair, darker skin, broader noses, and full lips has often warranted demeaning jokes and ridicule. Of course, this has affected Black women's ability to see our inherent beauty. Many would debate that Black women have been caught in an identity crisis for quite some time. While I respect those opinions, I relish in the strides and bounds we've boldly made in fashion and beauty. With the accessibility of social media, Black women are no longer forced to succumb to beauty advice from magazines that specifically cater to white women. Instead, we have thousands of beauty gurus of our own all over the Web, enthusiastically showing us how to flawlessly wear the looks that we are told don't "work" for us.
Below is a list of the beauty looks we're often told to avoid, and tutorials from popular online beauty vloggers and gurus. Be inspired by these amazing beauty looks and feel boldly confident when you rock them!
Bright Eye Colors
For decades, mainstream beauty standards have shown us that we're too dark to for bright eye colors to show up against our skin, or that they might make us look ashy. From chalky whites to tar blacks, Black women can confidently wear any eye color when applied correctly. Add an eye primer to your eyelid prior to applying shadows and you'll have phenomenal results. Learn to apply neon eye colors and thick eye liner with British YouTube beauty guru Beauty by JJ. This look was inspired by Nicki Minaj's 'Super Bass'.
.
Highlighting & Contouring
Highlighting and contouring to perfection can be tricky for any woman, but especially Black women. Destiny Godley uses LA Girl Concealer to properly create the perfect highlight and contour for dark skin, which will emphasize your bone structure and stunning features. We're told not to try these beauty methods for fear of looking white. However, Destiny flawlessly dispels this myth in her video, as many cosmetic companies make concealers and foundations in a range of colors from fair to dark skin.
.
Sexy Gothic Cat Eye & Bold Lip
With the right tools and a little practice, anyone can wear a cat eye and bold lip. Celebrity makeup artist Tatiana Ward (known as Beat Face Honey) slays us with this grown and sexy vampire-inspired look that others will compliment you about wherever you go. And it takes less than 12 minutes to achieve!
Modern Mod
Naysayers might say that this look will make Black women look awkward rather than attractive. Truth is: It's a classic play on popular beauty looks from the sixties that still slays today. Want to use less eye color but don't want to skimp on drama? Here's an amazing modern look from YouTube sensation Missy Lynn (known as Start2FinishMUA). It's easy to apply, but will still turn heads.
Classic Nude Lip
I've heard uninformed folks say that nude lips will only make Black women's lips look ashy. That's not true! Anyone can wear a nude lip. It's our job to redefine what nude means to us and apply colors that work with our skin. Regardless of your skin color, a beautiful nude lip can be for you! Three simple products will create your dream nude lip in a matter of minutes. Watch as Tameka creates a great example of this classic.
Winged Tip Eye Liner
What do you get when you combine a winged tip, gold-flake eye liner, and one of the boldest lip colors you've ever seen? A beat face. Youtuber Ellarie and her skills will upgrade your makeup application in no time.
Pretty Bold Lips
Who said that your lips had to be a certain size to sport the perfect pouty lip? No matter if your lips are ultra thin or large and full, creating the perfect pout in any color can be easily done. The trick is to use an inexpensive glazed lip paint to give your lips the pout and attention they deserve. Here are 5 different colors that will compliment any full (and eager) lip.
Fall Blush
Blush adds a glowing, youthful appearance to any makeup look, no matter your complexion. Delve into these beautiful blushes this fall. Cheryl Chrisitine shares her favorites from NARS.
Ariel C. Williams is the author of The Girl Talk Chronicles, who writes to inspire women to thrive in life, love, and profession. Connect with her @ArielSaysNow for upcoming events.