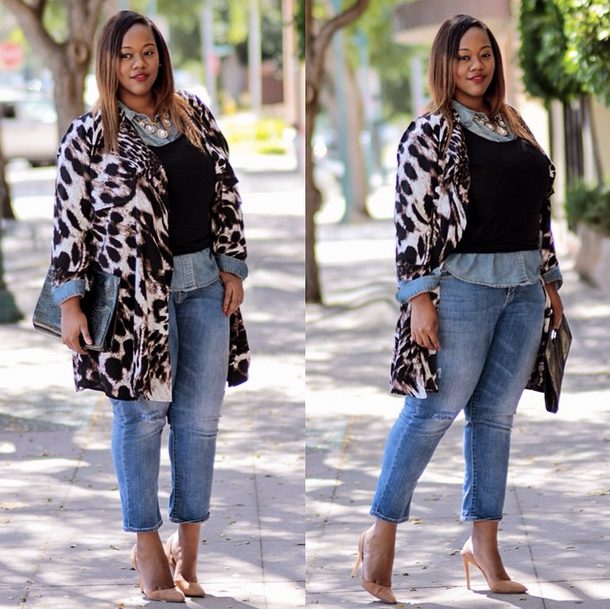 by Krislyn Domingue
Quite a few of us know how difficult it can be to find fashion forward clothing for plus size bodies in a market geared toward smaller frames. However, we've fallen in love with 15 plus-size, curvy style bloggers who have found their way from out between the rock and a hard place. Check them out below for loads of great fashion, confidence and inspiration!
Shea of
Curves and Confidence
teeters between business and sophisticated casual, mixing solids with statement pieces to create outfits that can easily transform from work to play. This fashionista has a flair for midi skirts and dresses that show off her killer legs. And more than inspiring your style in the right direction, Shea additionally motivates followers toward a healthy lifestyle.
Kristine of
Trendy Curvy
lives by the phrase, "Everything isn't for everybody," but she definitely understands how to adopt current trends in ways flattering to your frame. We're in love with her bold prints and to-die-for accessories!
Thamarr Guerrier of
Musings of a Curvy Lady
has a dynamic approach to colors, killing followers with lust worthy, monochromatic 'fits that can conveniently find themselves appropriate across seasons. Guerrier's closet dares you to try those out-of-the-box colors; true style has no size!
J. Sheri Atwell, a 20-something curvy girl of Shapely Chic Sheri not only stuns us with her impeccable style but also helps us fill our closets with plus size takes on the most up-to-date trends. From holiday dresses to leather pants to fur coats, Sheri's got us covered.
.
Kellie Brown of
And I Get Dressed
not only serves us fashion but beauty, as well! Brown's not afraid to embrace simplicity by sticking to the basics and helps us visualize how to take our everyday wardrobe to the next level.
Marie Denee
is a plus size fashion and style blogger with 15 years of experience in retail, editor-in-chief of
The Curvy Fashionista
, and fully qualified owner of an MBA in Marketing. Denee provides followers with a comprehensive guide to dressing to impress – plugging us with plus size designers; giving us first looks at upcoming collections; connecting us with other plus size bloggers; and serving us frame-appropriate takes on this season's trends.
Allison McGevna of
Inside Allie's World
is a media professional with 8 years' experience. This soon-to-be bride not only has flawless style, but is also a flawless beauty. Her
modeling portfolio
is stellar!
Audrey Williams, under the pen name of
Lulu Linden
, explores and develops her style all while giving us a front seat to the glitter, glam, and feminine confidence!
Chastity, of
Garner Style
, a 30-something plus size blogger from Georgia currently living in California is worth the follow. This stylista gives us looks for every occasion and plus size takes on celebrity fashions. She is also the new style ambassador for Torrid. Congrats, girl!
Sandee Joseph of
CurvEnvy
is not only one of our favorite style bloggers but also a
mother, wife, full time employee, and part-time graduate student living in New York
. Sandee knows how to work a neutral palette, and we the way she layers!
Joi Smith of
In My Joi
isn't afraid to push the do's and don't's of the fashion world with her funky aesthetic. Check in for lots of color, prints, hip accessories and bursts of Joi with her regular style updates.
Tanesha Awasthi, the brain and beauty behind
Girl with Curves
is a
style influencer on a mission
. Seen in such top-notch magazines as Marie Claire, Glamour, and the likes, this icon cannot only dress "to a T" but designs as well!
Assa of
My Curves and Curls
is a Canadian style blogger who specializes in versatility. In addition to "My Curves and Curls" you can find this lady dropping knowledge on African fashions at
Ciaafrique
.
Stephanie Augustine of The Haute Meal not only serves us style but delicious recipes, as well! This self-titled "flogger" – style and food blogger – dishes out hot meals and haute outfits filled with to-die-for prints and lust-worthy shoes.
We've gabbed about Gabi Gregg of
Gabi Fresh
previously but she's so great and her body positivity approach is so inspiring that we're gonna do it again! This blonde beauty gave us
one of our favorite covers of ***Flawless
and serves us everyday looks with polished looks with loads of of fabulousness.
We sure hope we've peaked your interest in these fabulous ladies! Can't get enough? Support their blogs and keep up-to-date with their happenings via their Instagrams. Didn't see you favorite? Who'd we miss? We'd love to know! Share below in the comments.
Krislyn Domingue is a sophomore, Sociology & Anthropology and Comparative Women's Studies double major at Spelman College in Atlanta, Georgia. She enjoys reading, writing, and sipping Chai Tea. Email: krislynshonte@gmail.com; Twitter: @krislynsd.