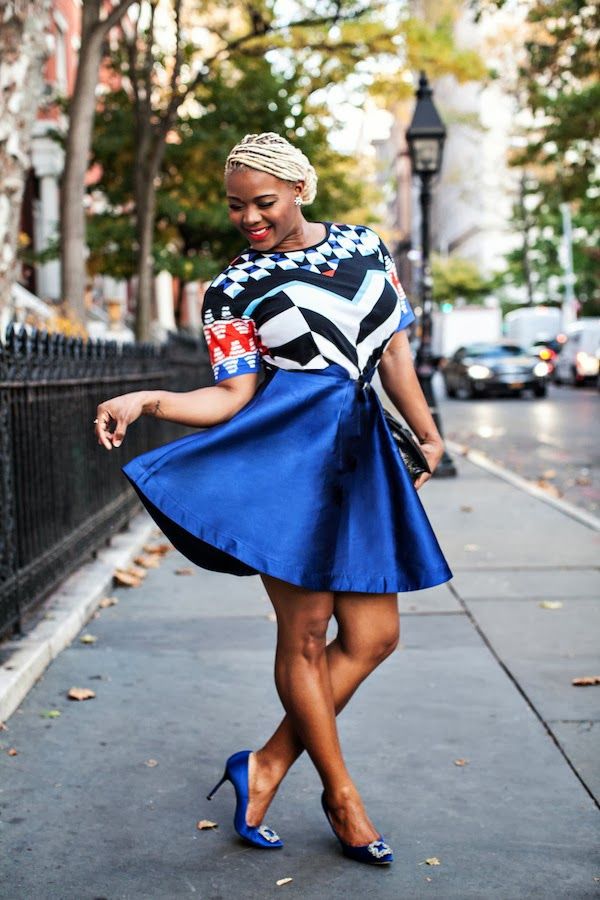 by Neisha Washington
From the numerous style bloggers out there, here are a few instagram fashionistas that caught our eye. Whether they embrace street style, corporate chic, high end brands, or masculine looks, these 20 lovely women are sure to bring a touch of fun and inspiration to your day!
Claire Sulmers is among other things a Harvard grad and the force behind Fashion Bomb Daily. Claire is pure excellence and her daily posts always warrant a second look of appreciation.
Christina Brown of Love Brown Sugar is a popular style blogger who welcomes looks that incorporate bold colors---essential for those who want to add brightness to their fall ensembles.
Ms. Andrews, a style journalist based in NYC, knows the ins and out of the fashion world. Andrew's experience working her way up to magazine editor, along with a striking collection of Louboutins, make her a great resource for all things fashion.
Patricia Bright is a London based style blogger whose closet boasts high end names along with finds from Zara and Topshop. This fashionista is always in good spirits and snagging the latest trends.
Ashley Hutchinson of The Daileigh is a stylist based in Maryland. Hutchinson runs a popular blog and regularly hosts seminars about building the best wardrobe.
DJ Kiss gains regular recognition both her music and fashion acumen. DJ Kiss has been featured by fashion magazines such as Elle and Harper's Bazaar. She is also the official DJ for Oprah's "The Life You Want" Tour.
Ariel of Faintly Masculine always inspires with thoughtful posts. This NYC based blogger emphasizes simplicity with a masculine touch. Ariel makes up half of the Faintly Masculine crew which asserts that, "In a world that celebrates a docile woman, we stand to affirm her strength". Completely agree!
The Shoe Gawker inspires all of those with restless spirits and a love for footwear. This style blogger---whose travels take her anywhere from London, Miami, or Uganda---- uses art as a central concept of personal style.
Blake Von D is fashion blogger who always delivers a solid look. Blake holds degrees from Spelman, NYU, and is working on completing her dream of becoming an attorney at Tulane University. So much admiration for her drive and carefree style.
Skinny Hipster credits her Nigerian-American heritage as the influence behind her style. Based out of Baltimore, Maryland she professes a love for bold prints and fashion finds for any budget.
June Ambrose is a well-known face in the fashion industry. This designer, who has styled artists such as Jay Z, Mary J Blige, Kelly Ripa, and Missy Elliott, crafted a niche for herself in an industry that did not always recognize her talents. Ambrose said in a NY Times interview, ""Fashion mags weren't really recognizing me, so I created my own space".
Rachel Johnson is known as one of the sports world's top stylists. Johnson's client list has included players such as Chris Bosh, Chris Paul, Victor Cruz, and Lebron James, and Colin Kaepernick. Johnson also receives credit for being a trailblazer in the NFL and NBA fashion scene, transforming the way the athletes perceive style.
Folake Huntoon of Style Pantry gains regular attention for her take on the trends. A mother of 3, Huntoon's remixes trends with classic pieces. For those looking for a fashion influence emphasizing clean lines, bold pops of color, and structure, Huntoon is a great fashionista to follow.
Gabi Fresh began blogging as a pastime, and soon gained avid followers due to her personal style and body positive approach. Fresh is known for launching the fatkini movement after posting photos of herself in a bikini. The media maven stays busy with appearances, contributing, blogging and collaborating with various brands.
A glance at Marjorie Harvey's instagram leaves no doubt that this fashionista knows how to throw together a show stopping look. This mother of seven and wife to Steve Harvey also runs The Lady Loves Couture, a style blog dedicated to giving access to fashion shows and luxurious living on a budget. One thing's for sure, Marjorie's collection of designer picks will leave you drooling.
Joy Adaézé, turban queen and Nigerian-American award winning style blogger, is a thrill to watch. Joy has been recognized by publications such as Essence, Elle, The New York Times, and Italian Vogue, and Marie Claire for her eclectic street style.
Khalila Williams-Webb is one of the NBA stylists responsible for the impeccable aesthetic choices of the game's top athletes. Williams-Web gained publicity for suiting Carmelo Anthony along with opening a vintage boutique, Shirley + Alice, in Bed Stuy, Brooklyn.
Karen "Brit Chic", the founder of the popular blog, "Where Did U Get That", is a London transplant living in New York. Karen's sartorial skills coupled with a love for photography make for stunning looks. The British blogger is repeatedly featured by fashion magazines such as Glamour, Lucky, and Allure.
Angela Simmons, known for her famous father Rev. Run and her time on "Run's House", boasts numerous accomplishments other than stints on reality TV. A designer who expresses a love for giving back Angela's loved both for her fashion sense and personality. Simmons launched a shoe line, Pastry, with elder sister Vanesa, and is currently working on a solo fashion line set to be unveiled.
Olori Swank, a highly sought after celebrity stylist, has worked with the likes of T.I., Teyana Taylor, and Childish Gambino. The University of Georgia honors grad stumbled upon into her current profession when an executive from Jive records asked her to style new artist Keyshia Cole.
---
Neisha Washington graduated from DePauw University with a degree in Political Science. She is currently a graduate student at American University School of International Studies. When she's not writing she enjoys poetry, volunteering, and spending time with friends.